Cargando..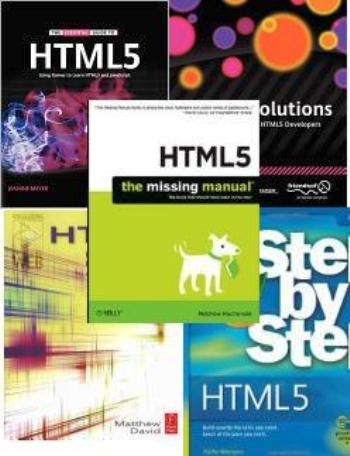 HTML5 (Essential ebooks)
2011 | English | PDF | 80 Mb
HTML5 is more than a markup language—it's a dozen independent web standards all rolled into one. Until now, all it's been missing is a manual. With this thorough, jargon-free guide, you'll learn how to build web apps that include video tools, dynamic drawings, geolocation, offline web apps, drag-and-drop, and many other features. HTML5 is the future of the Web, and with this book you'll reach it quickly.
This collection includes:
HTML5: The Missing Manual (Missing Manuals)
HTML5 Step by Step (Step By Step)
Sams Teach Yourself HTML5 in 10 Minutes
HTML5 Solutions: Essential Techniques for HTML5 Developers
The Essential Guide to HTML5: Using Games to Learn HTML5 and javascript
HTML5: Designing Rich Internet Applications
DESCARGA DIRECTA